File Backup Solution for Laptops & Desktops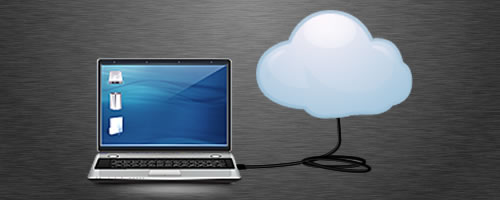 Problem:  Because we're usually on the go, it's hard to keep laptops updated.
Solution:  Have your computer automatically scan and sync your files for you.
In this post I'll show you how to utilize a free file backup system for your laptop or desktop that backs up to the cloud.  We'll be using Fling File Transfer, which is free software that allows you to automatically sync the files on your computer with your cloud server space.  Obviously you'll need to own that server space.  This is relatively inexpensive and for those of you who already host your websites online, this is a free solution.
If you don't have any type of web hosting you can find very inexpensive server space at Dreamhost, HostGater, Bluehost and many others.  As long as you find a hosting site that lets you upload files to your server using SFTP, you should be fine.
Personally, I love using this solution on my laptop.  With the following setup, Fling File Transfer will automatically scan any folder you tell it to and upload the files to your server.  This gives you a simple, automated file backup.
Pros:
Inexpensive (free to some) backup
Automated scanning and uploading (Don't have to worry about when the last time you clicked "backup" on our laptop
Cons:
The free version does not delete any files off the server
1. Download Fling File Transfer
You can grab a download here.  During installation you'll be able to download several other products from NCH.  It wouldn't hurt to take a look and see what other software solutions they offer.
2. Downgrade to the Free Version
You can pay for the pro version if you want, but then this wouldn't be a free file backup solution now would it?  If you just install the software, it'll install the pro trial version.  To actually get the free Fling File Transfer version, you need to go to "Add or Remove Programs" in your control panel.  Click on "Uninstall/Change."  It usually takes a little while before the dialog box pops up so just be patient.  Clicking a million times won't bring it up any sooner (trust me I've tried).
When the dialog pops up, just check the option that says "Downgrade to the free version."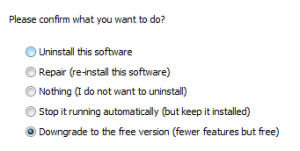 You can verify that you now have the free version of Fling File Transfer by opening up the program, clicking "help" and then clicking "About Fling File Transfer."  In the dialog box you can see what version you have.  It should say "Unlicensed Basic Free Version."

3. Setup Your First File Backup
What you want to back up is up to you.  At the very least I usually create a file backup of the desktop folder and the documents folder.  To create a file backup of your desktop, you'll need to do the following:
Click New in the Fling File Transfer toolbar.
Choose "To back up files over the internet using FTP."
Type "Desktop" into the description (really you can use whatever description you want).
Input your FTP server (hostname), username, and password.
Click the directory button.  If you can't connect, go back and check your FTP settings.
Create a "Backup" folder.  While you're connected to your server, create a new directory to store you files in.  This will be the folder where you store all of your backups.  If you are using the same host in which you store your website files, make sure this folder is outside of the root folder so that it is not accessible via your web URL.
Create a "Desktop" folder within your "Backup" folder.
Check "Use Secure FTP."
Test your FTP settings
On the next screen, choose your directory.
Uncheck "Mark existing files as being already transferred."
On the next screen, check "Automatic."
4. Finish the wizard and your done!
Finished.  Now every time you start your computer, Fling File Transfer should start up and begin scanning your selected folders for any files that haven't been uploaded.
---