New WordPress Paid Events Plugins in Beta testing!
WP Paid Events is now in its BETA stage.  Here are some of the highlighted features:
WP Paid Events Post Type
Create events and event categories using your own post type in WordPress.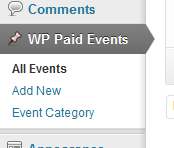 Settings
Event settings are short and sweet.  You can create Custom Question Templates while you are there.
Custom Question Templates
Custom Question Templates allow you to add questions to your checkout forms.  This way, you can collect more from your customers than just their billing information.  Multiple templates can be linked to an event.  We thought this would make it a little easier to manage your events.
Get the Tickets in Your Email
Customers are automatically emailed a ticket upon purchase.  From there they can print out the ticket on their own computer and bring it to the event.  Upon arrival, tickets can be scanned with a QR code reader to check them in.  After a ticket has been scanned once, it cannot be scanned again. (You must also be logged into your WordPress backend to scan the ticket.)
Manage Your Attendees All from WordPress
Attendees can be viewed from within WordPress.  No more going back and forth between Paypal and WordPress to manage your events.  From WordPress, you can view attendee information and their answers to your custom questions.  You can also provide them with full and partial refunds.
---